Learning Through Play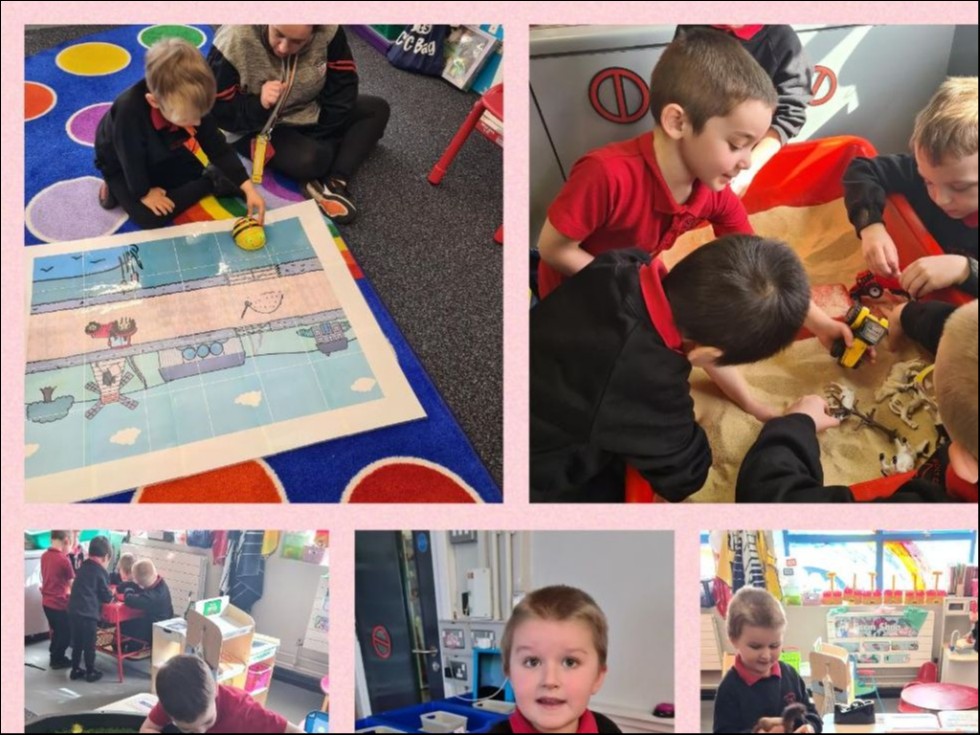 The Rainbow Room using play to explore the topic of the farm.
P2 Room 3 having fun during Big Toys.
P2 Room 3 having fun during Big Toys.
P2 Room 3 having fun during Big Toys.
P1 B enjoying some play.
P1 B enjoying some play.
P1 B enjoying some play.
P1 B enjoying some play.
Learning Through Play
At Holy Cross Boys' we understand the importance of and need to play to help children learn. It is an excellent vehicle to explore Communication, Numeracy and The World Round Us topics.
There are six reasons play, both unstructured and structured, is important for child development:
Play Builds Imagination and Creativity
During play, kids stretch their imaginations. They create make-believe games or get lost in pretend worlds. Children act out different solutions while boosting their confidence. They make their own rules and learn how to follow or adapt those rules as needed. These are helpful skills for navigating life and developing relationships with others.
Play Fosters Cognitive Growth
Unstructured play is the time when kids direct their own play. They are not bound by schedules or activities directed by adults. Unstructured play helps a child's brain develop in positive ways. It strengthens and increases neural connections in the brain. These are the paths in the brain that we use for thinking.
Play Delivers Emotional and Behavioural Benefits
Children are the same, although they need a lot more playtime. Frequent, daily play can help reduce anxiety, stress and irritability. It also helps boost joy and self-esteem.
Play Improves Literacy and Numeracy
Through play, kids learn about communication it's structure. They get to practise back and forth conversation, even if they can't speak! Sharing stories in books, orally or in make-believe play, helps them understand who they are and their role within the community. Stories also teach how language works and how narratives are structured.
Play is a great opportunity to explore mathematical concepts such as money, shape and weight to name a few in a fun and interactive way.
Play Encourages Greater Independence
Children often have little power or say over their daily activities. They spend much of their days being told what to do, when to do it and where they have to go. In the world of play, they have the opportunity to set the rules and be the one with power. They can be the leaders and adults can be the ones listening and taking directions.
Solitary play allows children to experiment with their own creativity and ideas. When alone, and even bored, children's brains take up the challenge. They find new and exciting ways to stimulate themselves. As Albert Einstein said, "the monotony and solitude of a quiet life stimulates the creative mind."
Play Promotes Physical Fitness
Whether they realize it or not, children's bodies are wired to be active. Children have a very strong need for Physical Play, which is any type of play that gets them moving. It's part of how they learn to use their bodies and strengthens connections in the brain. It's also great form of exercise, which promotes fit and healthy children.
Regular, active play has positive and far-reaching health effects throughout a child's life. No matter a child's abilities, interests and opportunities, physical play helps children:
sharpen reflexes;
work on movement control;
improve gross motor skills;
develop greater balance;
build strong muscles;
improve bone density;
increase cardio-vascular function;
all while having fun!