The Arts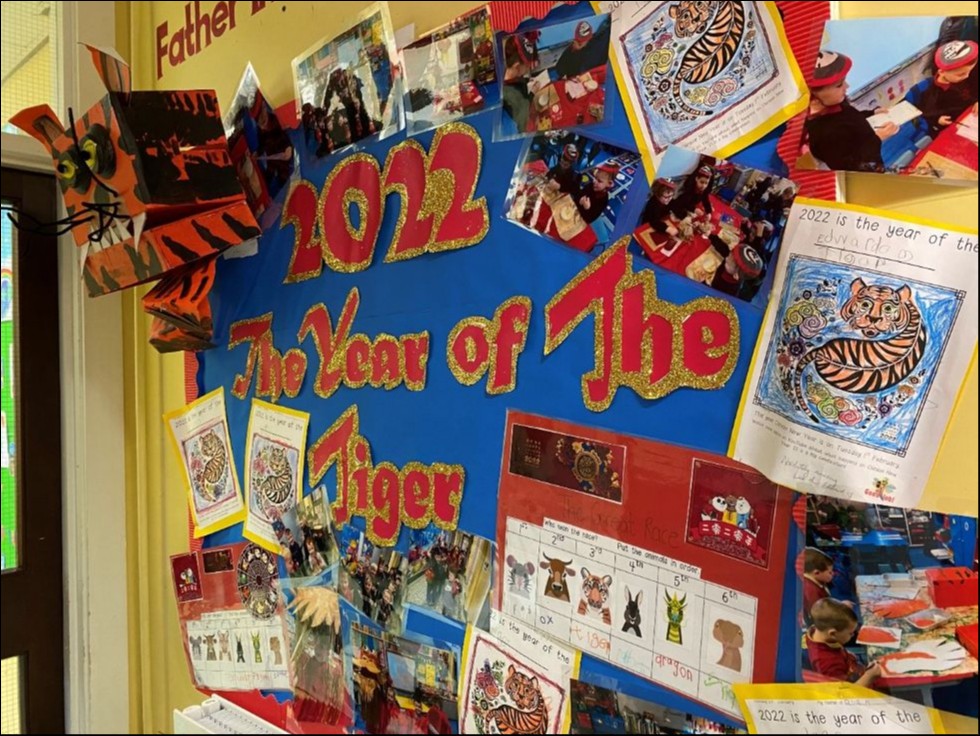 ART AND DESIGN
We have some serious talent here in Holy Cross Boys' PS concerning art and design. We always love to give the boys a chance to show it off throughout the year with competitions and displays. There are lots of art work by the children displayed throughout the school in forms of posters, displays and large scale permanent installations on the walls.
Each primary has a variety of skills that they are taught (all linked to their topic) through the use of different mediums such as paint, clay, collage, pastels etc.
We also have a project running in each primary where every term the classes study a painting by a great master which we have carefully linked to a piece of classical music. The pieces teachers receive in response to this study are absolutely amazing.
MUSIC
WHY DO WE TEACH MUSIC IN HOLY CROSS BOYS' P.S.?
Basic music lessons are part of the national curriculum.
This school aspires to teach a balanced and broadly based curriculum which will promote the cultural, physical, emotional, aesthetic and intellectual development of all pupils.
Learning music contributes to each of these faculties.
WHAT ARE THE BENEFITS OF LEARNING MUSIC?
Let's start with singing. In younger children this helps focus on their pronunciation and understanding of phonetics, helping them to develop verbal communication skills. As they get older, it will improve their literacy skills as they'll be reading and dealing with lyrics on a regular basis. It's also been demonstrated that the rhythms in many types of music help to improve reading fluency. Singing can also provide a child with their first introduction to poetry and verse, both core topics in English Literature.
Now let's look at learning to play a musical instrument.
With younger children, the key concepts of music which they encounter
in their weekly music classes also help develop logical thinking: ideas such as long
and short, left and right as well as the concepts of numbers and counting all go to
help in other areas of their learning.
Learning to play a musical instrument has been proven to improve a child's memory
as well as other skills from literacy to mathematics.
Playing a musical instrument requires a child to focus and improve on core skills; a
method that can be applied to their other subjects. The child must learn discipline
and perseverance as well as focus and motivation; all key skills to effective study.
If they've developed the discipline to keep up with music practice, they're more likely
to be able to cope with the increase in workload as they grow older.
But let's not forget the impact learning a musical instrument can have on non-academic skills. Learning and performing music can improve a child's self-esteem, confidence and social skills, especially if they perform in musical groups. This means they'll be more likely to socialise well in school, often leading to improved academic performance.
HOW IS MUSIC TAUGHT IN HOLY CROSS BOYS' P.S.?
Firstly, through general music classes;
Key Stage 1 half an hour per week.
Key Stage 2 two half hour classes per week.
Each key stage also has a half hour of group singing per week.
Secondly, through instrumental lessons.
All pupils in P.5, P.6 and P.7 have a half hour tin whistle lesson per week and are
expected to do 10 minutes of practice at home each evening.
In P.4 pupils are selected (by means of a musical ear test) for individual peripatetic
instrumental lessons delivered by the EA Music Service and private tutors. These
pupils will work towards Graded exams on their instrument, giving them the
opportunity to gain a recognised qualification in Music.
Currently, lessons are available on violin, cello, flute, trumpet, trombone and
drum kit.
Guitar is taught as an extended school's activity and djembe (African drum) is offered
to pupils in P.6 and P7.
CHOIR
The school choir is made up of pupils from P.4-7 who rehearse once a week.
Along with instrumentalists, the choir participates in all the Religious Sacraments
throughout the year (e.g. Sacrament of Penance, First Communion and Confirmation)
and competes in local competitions organized by The Flax Trust and The Saint Anne
Trust.
PERFORMANCE OPPORTUNITIES
Every pupil in the school has an opportunity to perform in class Assemblies, at religious ceremonies, in the Key Stage 1 Christmas Show or the Leavers Show at the end of P7.