Extended Schools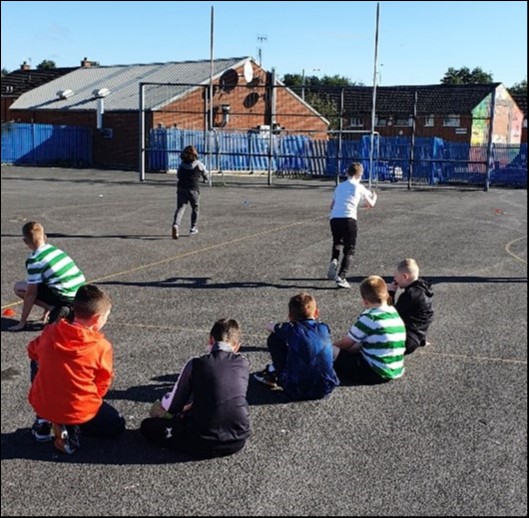 What is the Extended Schools Programme?
Our Extended Schools programme is embedded within the core of our school motto "Nurturing Talent Fulfilling Potential". The purpose is to improve educational attainment for our children in Holy Cross Boys'. We have many activities catering for all ages & abilities. These activities help to support learning, raise standards and promote healthy lifestyles. We have an excellent platform of community links which enable our children to avail of many local services and local people. Our activities are broken down into four curricular areas; Academic, Sports, Creative and Parents and Community. So we really do have something on offer for every child!
When does the Extended Schools Programme run?
Our wide range of activities run daily from Monday- Thursday with experienced staff. Parents will receive a timetable each term to inform them of dates/times for each activity. It will also appear in our Weekly Newsletter. Our Key Stage One and Key Stage Two timetables run at different times to accommodate finish times.
What activities are available through the Extended Schools Programme? An example of the timetable is attached below.
Extended Schools Weekly Timetable

Monday

Tuesday

Wednesday

Thursday

Breakfast club for P1 to P7

· Accelerated Maths

D. Thompson Rm 2

P6/7 3-4pm

Rm 18

· Mini-Soccer

P1-2.00-2.30pm

P2-2.30-3.00pm

P5-3.00-4.00pm

with T. Kane – Hall.

· ICT

P7 3-4pm with

Mr Johnston Rm 8

· Spanish

P6 3-4pm with

Mrs Flannigan

Rainbow Room

· Guitar

P4-7 3.00 to 4.00pm

with Mrs Martin Music Room

· Mindfulness Monday

Mrs McShane 3-4pm

Rm18

· Drum Kit

P6/7 with Specialist

· Accelerated Reader

D. Clarke Rm 12 in

P6/7 – 3-4pm

· Arts and Craft

P5 – 3 to 4 pm

with S. Kane Rm 13

· French:

P5 3-4pm

With Mrs Martin

Music Room

· Table Tennis

P3 2.15-3.00pm

P4-7 3.00- 4.00pm

in Hall L. Ferrin

· Science Investigations

P4 3- 4pm

With K. Keenan Rm 20

· ASD HW Club

P6/7 3-4pm

Mrs Flannigan

Rainbow Room

· Multi sports

P1 - 2.00-2.30pm

P2 - 2.30-3.00pm

P4 - 3.00-4.00pm

With Tony Kane in Hall

· Pupil Mental Health

P4-7 with Joe Watson in

ICT Room

P4/5: 9.30 to 10.00am

P6/7: 10.00 to 10.30am

· Soccer

P6/7 School Team 3-4pm with Joe Gormley (PITCH or Community Centre)

· Nature Studies:

P5 - 7 3-4pm

P. McClenaghan

and Ulster Wildlife Trust

Rm 14 or Nature Garden

· Handball

P3 - 2 -3pm

P6/7 Handball Team 3-4pm

With L. Ferrin - Hall

• Gaelic Football

P3-2.15-3.00pm

P6/7 School Team 3-4pm

(PITCH or Community Centre)

Peer Mentoring (4 Pupils) in conjunction with Ardoyne Youth Club Mon to Friday
Breakfast Club
Aside from our usual After School Clubs, we also run a Breakfast Club for P1-P7 children Monday to Friday 8am – 8.45am. Children can enjoy a range of cereals, yoghurts, toast to ensure they are set up for the day ahead.
Opportunities for parents
As a community school we realise the important role our parents have to play. Building a connected school community enhances learning outcomes and support, collaboration and wellbeing for the entire school. Therefore, we incorporate many activities into our Extended Schools plans that our parents can avail of. These include parents GCSE English/Maths classes, Philosophy, Parent Mental Health, Level 3 Classroom Assistant courses & First Aid.
We would love to see you all involved!
Holy Cross Boys PS, Butler Walk, Belfast BT14 7NY Phone: 028 9035 1032